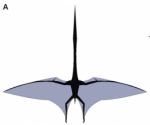 In Papua New Guinea, natives describe huge flying animals with long beaks, bat-like wings, and razor-sharp teeth and claws. Evidence of gigantic nesting sites have been found in the mountains. Remember, this is the area where previously-unknown species of animals are found almost constantly. Could these creatures be living pterosaurs?
The Ropen or 'demon flyer' is a monstrous animal that is said to have terrified the natives of Papua New Guinea for thousands of years. Another smaller animal, known as the Duah, is possibly related to the Ropen, a cryptid creature said to haunts some of the far-flung outlying islands.

The flying animals described are said to "glow" in the dark, as reported both by locals and researchers. It has been hypothesized that the bio-luminescent glow assists the animals' effort to hunt and catch food in the deep darkness of the tropical night. One of the researchers, David Woetzel, has said that he recorded images of the animals while studying them.
(Image credit: Wikipedia user DinoGuy2)