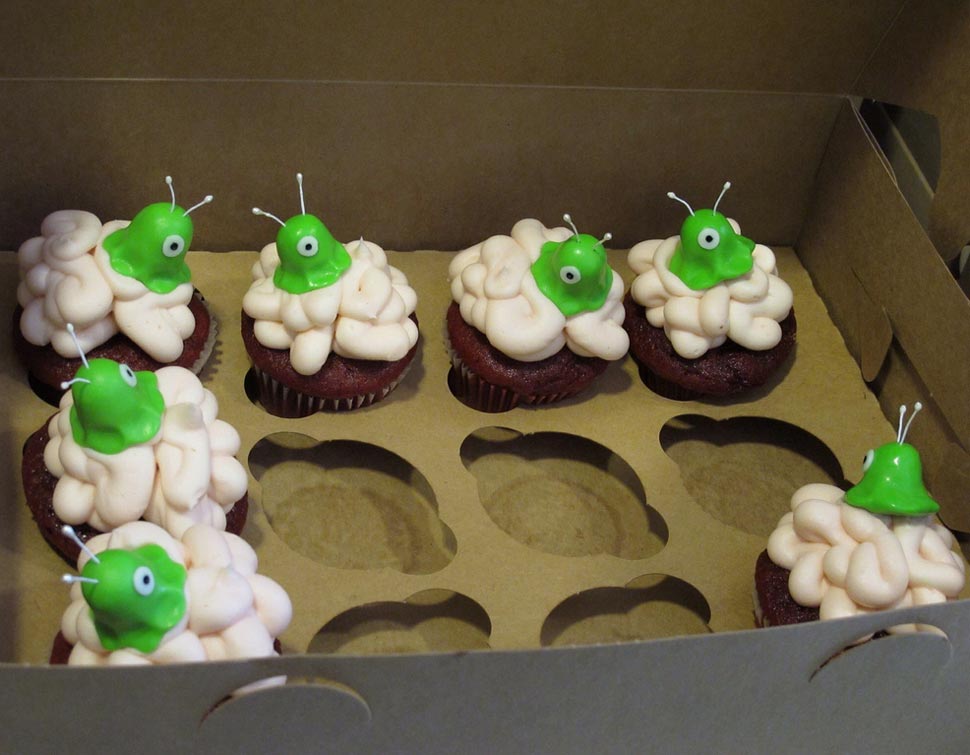 Glenn Fleishman shares a treat with us:
I was lucky enough to attend the last scheduled table reading (where a script is read by the voice actors) for Futurama, the animated cartoon show revived twice now after Fox's broadcast network failed to kill the show. Featured at the reading were piles of delicious brain slug cupcakes. I LOVE THE BRAIN SLUG CUPCAKES, TRY ONE.

The final script is quite hilarious, naturally, and it was a pleasure not just to hear it read in person by the actors, but to watch how much of a family the show is, cast, crew, and their friends and families. That feeling comes through in the show, which was created by Matt Groening and David "X" Cohen, through whose good offices (and my dear friend, his sister) I garnered an invite.

It was especially neat to watch Billy West talk to himself, cycling through Fry, the Professor, Zoidberg, and Zap Branigan, sometimes one right after the other. Also, John DiMaggio, who voices Bender, is 100-feet tall, and breathes fire.
Futurama is one of the only TV shows ever to feature real math and science, as well as multiple alien language alphabets (one a substitution, the other a code), and other supergeekery.

The show hasn't been canceled. This was the last of the current order of episodes by Cartoon Network, but Futurama has rebirthed itself before.

And here's a really cute photo of Glenn with pals on the set, including the aforementioned Messrs. Cohen and Groening.

You can pick up DVDs of past seasons here: Amazon link.
(Thanks, Glenn!)