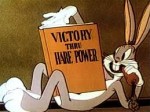 The cartoon character Bugs Bunny turned 70 on Tuesday:
Bugs made his debut in the animated short film "A Wild Hare" on July 27, 1940. It's in that film that he first pops out of his rabbit hole and asks Elmer Fudd in what has become his signature line – "Eh, what's up, Doc?"

Though a rabbit resembling Bugs appeared in cartoons as early as 1938, animation historians consider "A Wild Hare" to be the first "official" Bugs Bunny short.
For about twenty years, I've advocated that Bugs appear on US currency as the quintessential American personality. Alas, this has yet to come to pass.
Link via Glenn Reynolds | Image: Warner Bros.