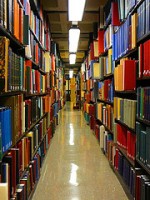 Google, which is engaging in extensive book digitization projects, recently set out to determine the number of distinct print books currently in existence:
After some intensive analysis, we've come up with a number. Standing on the shoulders of giants—libraries and cataloging organizations—and based on our computational resources and experience of organizing millions of books through our Books Library Project and Books Partner Program since 2004, we've determined that number.

As of today, we estimate that there are 129,864,880 different books in the world. That's a lot of knowledge captured in the written word! This calculation used an algorithm that combines books information from multiple sources including libraries, WorldCat, national union catalogs and commercial providers. And the actual number of books is always increasing.
Link via Cool-O-Rama | Photo by Flickr user Nrbelex used under Creative Commons license