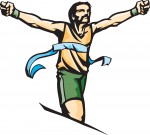 Edison Pena, one of the Chilean miners who was trapped underground for 69 days, was known to the media as "the runner" because he ran long distances underground to keep physically fit. On Sunday, he's going to compete in the New York City Marathon, according to Mary Wittenberg, the President of the New York City Road Runners Club:
Edison Pena, 34, was originally invited by the club, which organizes the annual marathon, to attend the event as a spectator. But Pena insisted on running in the 26.2-mile marathon, Wittenberg said.[...]

"To be out there whether running or walking is such an affirmation of the human spirit," she said of the marathon.

Wittenberg said Pena will be traveling to New York with his wife.

The 12th miner to be rescued, Pena is a diehard Elvis Presley fan who, despite speaking little English, knows most of the words to Elvis classics and led the trapped miners in sing-alongs during their 69-day ordeal underground.
Link via MArooned | Image: iClipart