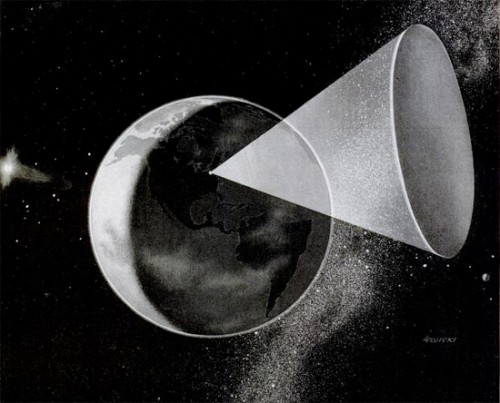 An issue of Life magazine published on July 23, 1945 includes an article about a secret weapon proposed by some Nazi scientists toward the end of World War II. It was a huge mirror that, if placed in orbit, would focus sunlight on enemy nations and burn them:
Plausible schemes to build a station in space were engineered on paper long before the war. European rocket enthusiasts, including Dr. Hermann Oberth, who may have been the designer of the V-2, had planned to use the space station not as a weapon but as a refueling point for rockets starting off on journeys into space. … The only major obstacle: constructing a rocket powerful enough to reach a point where a space station could be built. If the modern German scientists had been able to make such a rocket, they might have ben able to set up their sun gun. Whether the sun gun would have accomplished what they expected, however, is another matter."

The German idea of using the sun as a military weapon is not new. There is an ancient legend that Archimedes designed great burning mirrors which set the Roman fleet afire during the siege of Syracuse, in which Archimedes later died. This legend, and the German plan for building may be proved physically impossible by a simple axiom of optics. This is that light cannot be brought to a sharp, pointed focus with lenses or mirrors unless it comes from a sharp, pointed source. Since the sun appears in the sky as a disk and not as a point, the best any optical system can produce is an image of this disk. At very short focal lengths, the image is small and hot but as the focal length is increased the image becomes progressively bigger and cooler. At the distance the Germans proposed to set up their mirror (3,100 miles) the image of the sun cast on the earth would be about 40 miles in diameter and not hot enough to do any damage.