Majestic SEO has long had great link data, but their biggest issue has been usability. They sorta built with the approach of "let's give them everything" as a default, and then allowed advanced filtering to be done over the top to generate custom reports.
For advanced users this type of set up is ideal, because you are able to slice and dice it in many ways on your own terms. It allows you to spot nepotistic networks, pinpoint strategies quickly, and generally just give you a good look at what is going on in ways that wouldn't be able to do if you couldn't get all the data in a table. There are so many valuable edge case uses that can't practically be put in a single interface while keeping usability high for the average use.
But for people newer to the SEO game & those looking for a quick source of data the level of options can be a bit overwhelming when compared against something like Open Site Explorer. A parallel analogy would be that when I want to spot check rankings real quick I rely on our rank checker, but if you want to have a variety of in-depth historical views then something like Advanced Web Ranking can be a quite helpful tool.
In an attempt to improve the "at a glance" style functionality Majestic SEO announced their new site explorer, which puts more data at your fingertips without requiring you to open up an Excel spreadsheet:
How much can you use the Majestic Site Explorer?
The system is designed for silver users and above. Silver subscribers can query upto 10 different domains an HOUR. Gold subscribers can query upto 30 different domains an hour and Platinum subscribers can query upto 100 different domains an hour. All levels are subject to fair use terms.
These allow you to view data on a sitewide basis, at the subdomain level, or drill down to individual pages.
Here is an example of a site level report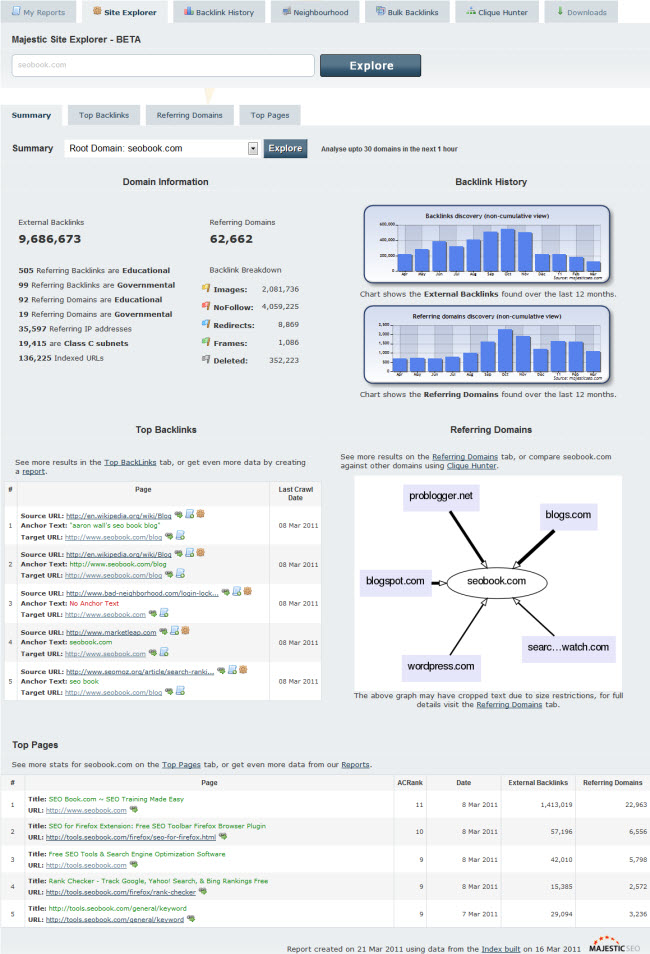 and if you wanted data down to the URL level, here is an overview of a top few links (note that the report goes on for numerous pages with data)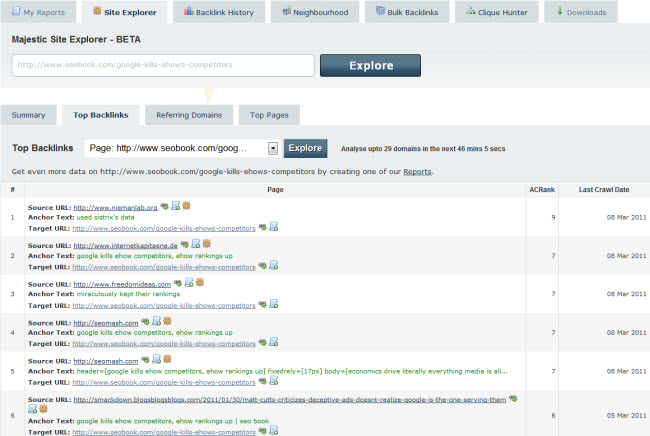 This update helped Majestic SEO close the gap a bit with Open Site Explorer, but a couple more things they may want to consider doing are
adding result crowding / limit results to x per domain
allowing you to filter out internal link data
Those features are available via their advanced reports, but making it easier to do some of that stuff in the "at a glance" interface would allow Majestic SEO to provide as a best in breed solution for both the "at a glance" function and the "in-depth deep research" options.
Majestic SEO also announced their new fresh index, which allows you to view fresh link data as recently as within the past day. It doesn't require waiting for a monthly update or such, but offers link data right away. To help spread the word & give everyone a chance to see some of the new features they gave us free discount voucher codes to give out to get a 20% discount on your first month at any level.
If you have any questions about how Majestic SEO works you can sign up & register your own site, which allows you to access many of their features free. As a comparison SEOmoz (which offers Open Site Explorer) is also running a free 1-month trial right now.